Maybe its not something new. Maybe you think this post dont make any sense/useless. BUT, I want to tell you. just that :3
I joined in a facebook group, with my friends as the admin
ai_ryosuke
. They made a project "send your request email to Indonesian magazine!". this was made because there were too much kpop fever here. And of course we fans, want Jpop to be on magazine too, right? we dont want they kpop fans to look down on jpop, of course.
WE WANT INDONESIAN KNOW JPOP
!
after we send tons of mail
I just send one email, I told you xD because I dont have much time to write letter
, one of them got a reply which said :
"sorry, but Jpop fans/reader/requester just a few compared to kpop"
I think, it doesnt matter right? IT IS A REQUEST, not a polling. it doesnt matter if kpop fans more than jpop fans. it depends on you, the redaction.
but after all, they granted we, jpop lovers wish! :D
I took a snap using my phone.
here is last week edition
and here is this week edition. two times in a row! :3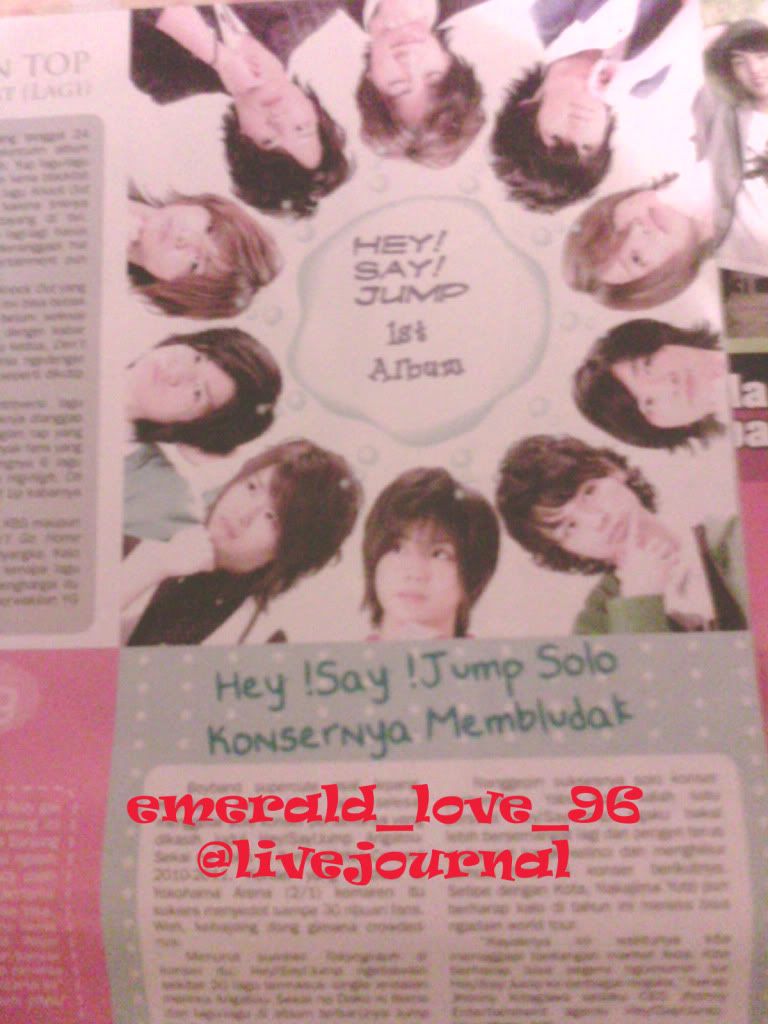 I hope someday they will give us posters :P
minna-san, have you watched summary? well, there are some interesting part~ let me list it :
- Time performance. they changed the intro a little bit. I thought it was some Indian song, LOL.
- Your Seed band. It was cool how they played the music with instrument! and I love their ideas to just wear normal clothes xD
- Asia no Yoru. I know its yamada immediately x3 the dance and the flying scene was cool. and yeah, the ero scene also.... .////. there was too right? where he pulled his collar and where he shake his hips. FOR GODS SAKE, YOU STILL 17 BOY
- after AriYama did the tightrope. the fighting scene and okay, Yamada smirk. -_-" LOL
this summary was like dreamboys. but it was scarier. except the flying part, they didnt use any safety rope (or whatever you call it). if something happens to them, I will chase Johnny-san xDDDD
the stage was quiet small too ;A;
whatever, I want wincon to be released~~~ It sounds cool :D the concert, I mean.
currently downloading and watching : Bloody Monday 2. even I didnt really watch the first season XD but who cares? I wanna see haruma and kamiki ♥
ps : I am not locking this, feel free to link back :) credit me if you will post the picture anywhere else~
Heart:
energetic
Headset: time-hsj